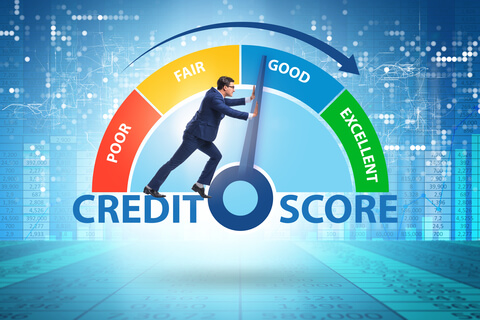 As we collectively focus on recovering from 2020, many borrowers are beginning this year saddled with a lingering reminder of last year's hardships: sagging FICO scores.
This has set up a vicious cycle. Borrowers need to cash-out commercial real estate — now! Yet, lenders have become more FICO-sensitive. Just as borrowers are scratching their way out of the slump, lenders are moving the goalpost. Eighteen months ago, long-term commercial real estate loans were attainable with a 600 FICO score. Today, most lenders want to see 650. That is pushing much-needed funding out of reach of borrowers at a time when they need it the most.
At Boulder Equity Partners, we are encountering otherwise qualified borrowers who can't get funded because they lost ground with their credit due to pandemic-related income loss, late payments, and defaults. So, we thought we'd share a couple of options that may help borrowers with shrinking scores do damage control:
Boulder Equity Partners offers a low-interest perm loan option for borrowers on the FICO margin. This loan is attainable with a FICO score all the way down to 620. The minimum loan amount is $500k with the max in the $7MM range.
Another alternative is our bridge loan product. The borrower's FICO score is not necessarily the deciding factor when qualifying for a bridge loan. There also are other benefits to this commercial real estate financing option.
For instance, a bridge loan allows the borrower the opportunity to repair credit. The borrower can use bridge funding to pull much-needed cash out of commercial real estate and use the funds to cure related defaults or pay down business lines. Often, these borrowers can improve FICO scores in as little as three to six months. Then, the borrower is in a better position to transition into a long-term commercial real estate loan with Boulder Equity Partners.
That strategy works because commercial bridge loan products are available with little or no prepayment penalties. A bridge gives the borrower some breathing space while they shore up their income and cure credit issues. Once the borrower's FICO improves and the property becomes stabilized, it is possible to move into a lower-interest option.
Bridge loans may cost more in interest, but only for a short period of time. A bridge is temporary, with terms of one to two years. The higher interest rate is offset by increases in income and other value to the business over the long term by investing the cash out from the loan back into the business, or paying down other expensive debt. If necessary, an extension to the bridge may be available, bringing the total term to three years. If the borrower recovers sooner than expected, there typically is little to no prepayment penalty. The borrower can finance out of the bridge loan and transition into a long-term commercial real estate loan on their timeline.
Boulder Equity Partners offers bridge loans starting at $1MM. If a single property does not meet the threshold, BEP may be able to provide a blanket loan on multiple properties.  We are also working on bringing the minimum loan thresholds down lower, so stay tuned!
We're here to help. As a nationwide lender for all commercial real estate loans, Boulder Equity Partners offers a wide range of loan programs, from low-interest long-term products to quick-close options, bridge loan programs that can be migrated to long-term, and hard money loans.
Recently Funded: $1,897,000, Office and Retail in Decatur and Lithonia, GA Recently Funded: $190,000, Single-Family Rental in Odenton, MD